Decorative
Dahlias > Types
Group 5-- Formal Decorative Dahlias


Decorative dahlias have fully double blooms showing no disc. The ray florets are generally broad and flat and may be involute for no more than 75% of their length (longitudinal axis) or slightly twisted, and usually bluntly pointed.

This type of dahlia is very popular with enthusiasts who love to have a good show of colour in the garden.

Decorative dahlias are very much in favour with those who like to attend exhibitions or enter shows and new varieties are always being produced.



"Dinner Plate" Dahlias will certainly create the wow factor either in the garden or on the show bench. Giant dahlias produce flowers usually over 250mm (10″) in diameter and can be up to 380mm (15″). Large dahlia varieties have flowers between 200mm (8″) and 250mm (10″) in diameter. For exhibition dahlia varieties classed as large must not exceed 260mm.


Dahlia Alva's Supreme - pictured

Giant formal decorative yellow 1.4m. E. AM/E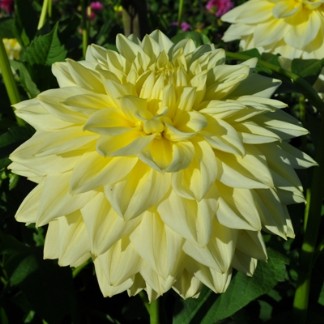 Small and Miniature Decorative Dahlias

This section includes some very popular exhibition dahlia varieties but many dahlia varieties make good cut flowers and fit well into borders. Small flowered decorative dahlia usually produce flowers 100-150mm (4-6″) across.
Miniature flowered decorative dahlia are usually between 50 and 100mm (2-4″) across. For exhibition purposes they must not exceed 170mm and 115mm respectively.

Dahlia Abbie - pictured

Small Decorative Lavender pink with cream base, won as seedling in Scotland. 1m E.C.G.
An outstanding variety raised by G Buchan of Aberdeen which we introduced in 2008. Formation is outstanding with flowers a lovely blend of lavender pink with a creamy white base. Flowers are held at good angles on strong stems with plants reaching 1-1.2m. We find this variety to be very weather proof . To avoid going oversize you need to grow at least 10 up as though the form is superb it is more naturally a small, small rather than a true miniature